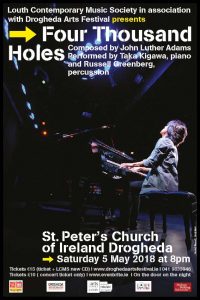 Louth Contemporary Music Society and Drogheda Arts Festival
presents
Four Thousand Holes
Taga Kigawa, piano
Russell Greenberg, percussion.
8pm on Saturday 5 May 2018
St.Peter's Church of Ireland Drogheda
Described by Boston.com as "a work of ecstatic, hazy beauty" Four Thousand Holes
composed by Pulitzer Prize winner John Luther Adams, takes as its starting point the final piano chord in the Beatles A Day in the Life from Sgt. Pepper's Lonely Hearts Club Band. Adams then lays additional piano and percussion over an electronic aura to create a piece of rare beauty.
The performance by New York based pianist Taka Kigawa and percussionist Russell Greenberg promises to be a highlight of Drogheda Arts Festival.

As Paul Adler of Westchester Magazine writes "When Taka Kigawa performs, people take note. Called a "phenomenon" by The New York Times, Kigawa is one of the most celebrated pianists ever to come out of Japan. Having performed in such venues as Carnegie Hall in New York City, Kigawa is known for drawing crowds with his unique style, which combines influences ranging from baroque to the most experimental elements of contemporary classical music". In this performance, Kigawa will also perform Karen Tanaka's Techno Etudes and her former teacher Tristan Murail's sublime Territories de l'oubli along with Adams Four Thousand Holes.
Saturday 5 May 2018 at 8pm in St. Peter's Church of Ireland Drogheda
Tickets €15 (Concert ticket and LCMS new cd Floating, drifting which also includes LCMS recording of Four Thousand Holes. Collection of cd at the door.) from www.droghedaartsfestival.ie
Booking by Phone  Tel : +353 (0)41 9833946
or
concert ticket only prices €10 from www.eventbrite.ie or on the door on the night.
Four Thousand Holes is part of Drogheda Arts Festival 2018.
Funded by
Create Louth and Arts Council