In Touch – September 2023
The Occasional Newsletter of Drogheda, Ardee and Kilsaran Unions of Parishes
Estimated
4

min read
CONDOLENCES

We offer our condolences to James, Mary, Charlie and David Black on
the death of James' mother Dodo on 14th August. The funeral service
was held in the Cathedral Church of Saint Patrick in Armagh with burial
in the adjoining Churchyard.

We also offer our condolences to the Hepburn and Kingwell families on
the death of June Kingwell (née Hepburn). June's funeral service took
place in St Peter's on Friday 25th August, with burial in the graveyard of
St Mary's. June grew up in Drogheda and was a regular attender of St
Mary's before her marriage.

BAPTISM

On 6th August, we were delighted to welcome our newest member of the
congregation: Daniel Patrick Judge, who was baptized in St Peter's
Church.

DECONSECRATION

On 14th August at 11 am, the Archbishop, the most Rev John McDowell
and the Dean of Armagh, the Very Rev Shane Forster, conducted a
service of secularization or deconsecration in Beaulieu Church. Eleven
people attended, including Stephen and Hazel, who were married in
Beaulieu forty years ago. On that beautiful though sad morning, Pam and
Clive provided refreshments afterwards.

HARVEST IN BARMEATH

All parishes have chosen to support the Open Air Harvest Service in
Barmeath at 3.30 pm on 10th September, in the grounds of Barmeath
Castle, by kind permission of Lord and Lady Bellew.
Both Archbishops of Armagh have accepted invitations.
Transport to Barmeath

If there are those in St Peter's who would like transport to Barmeath,
Rebecca Doherty has offered to co-ordinate transport between St Peter's
and Barmeath. Gerry Dagg has also said that he has two places in his car.

Music

Dundalk Brass Band will supply the accompaniment to the hymns, and
St Nicholas' Choir, Dundalk, will lead the singing. Ms Sharon Eveson
(conductor) and Ms Evelyn McCullins (director) would welcome any
extra singers from the Drogheda group.

Teas

We will be asking for donations of tray-bakes for the tea. If you can
bring tray-bakes, please bring them on the plate they will be served on:
this way, left-overs (if any) can easily be taken home. It would be a good
idea to put your name on the bottom of your serving plate.

Seating
Seating will be very basic, so if you have an outdoor chair, please bring it.

ARDEE CHURCH

Because of essential serious work on Ardee Church, it will be closed for
the months of September and October. Dunleer, Kilsaran and
Drogheda will eagerly welcome Ardee parishioners during this time. Our
sincere thanks to the Ardee wardens, secretary and treasurer, who have
expended so much time to ensure that such a good job is done that the
church will last for many more years.
VACANCY

The Parish Profile and the Rectory Vacancy inspection are now
complete. The Board of Nomination has been called for the beginning
of October. Please keep in your prayers, the parishes and those whose
task it to select our new rector.
SICK AND HOME VISITING

Please let me know if there are people in hospital or at home who would
like a pastoral visit. I would prefer to be told three times than to run the
risk of neglecting someone.
MUSIC IN ST PETER'S

Saturday 9th September: Seán Corcoran Series
– A celebration of the life and work of Louth native Seán Corcoran – singer,
fieldworker, documentary maker and vernacular musicologist.
10am-3pm – Bread & Roses Community Fair will be held in the
Close and at 8pm – Concert in the Church.
Tickets and information at seancorcoranseries.com

Drogheda Classical Music Series at St. Peter's.

Sunday 24th September at 7.30pm : Lise de la Salle (Piano) and
Hermes Quartet
Thursday 12th October at 7.30pm: Michael McHale (Piano)
Tickets can be purchased on line at droghedaclassicalmusic.com

PRAYER

Heavenly Father, we pray for those whose task it is to select a new rector.
May they find someone who will make holy these our parish churches so
that they will be places where the sorrowing find comfort, the tempted
strength, where the lonely find fellowship and the sinner forgiveness;
where the weary find refreshment and the faithful grace. So may all offer
you a holy worship, in the name of Jesus Christ our Lord. Amen.
Clergy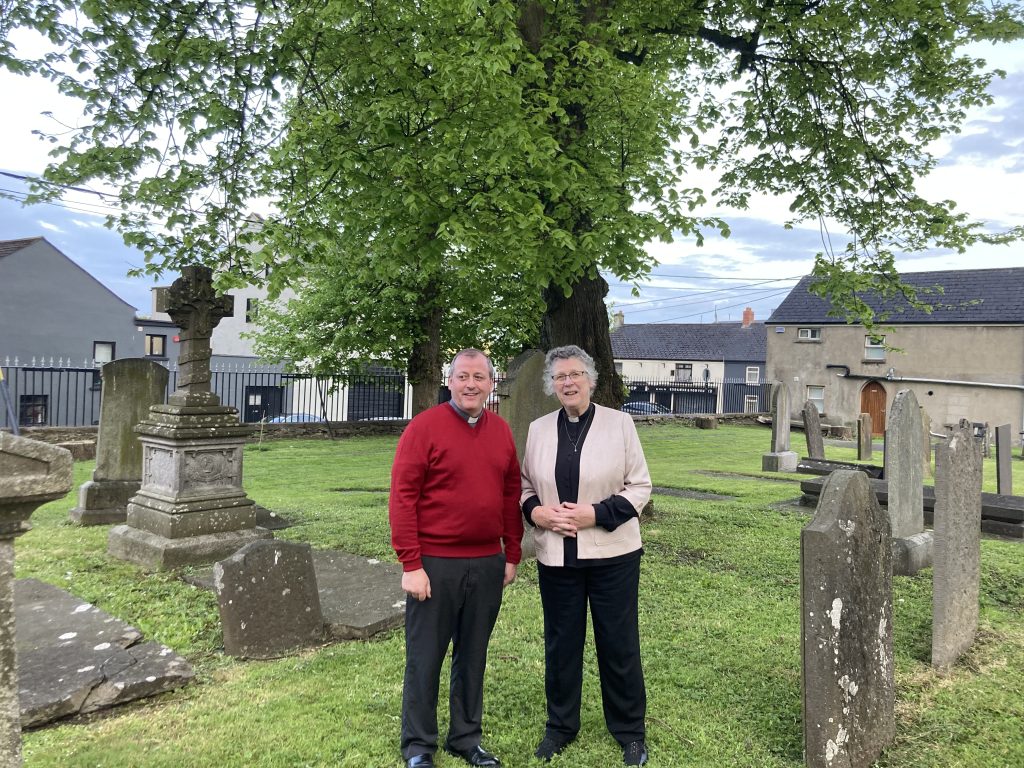 The Rev'd Canon Joyce Moore
Tel: (041) 6851327/087 7468866
Dunleer, Co. Louth
CONTRIBUTIONS TO IN TOUCH
If you have any contributions/noteworthy dates which you would like included in
In Touch please email details to hazelspearman@icloud.com