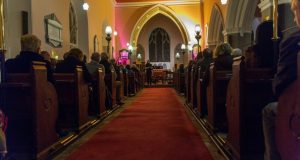 We're delighted to announce that Ardee Baroque 2017 will take place from Friday 24 to Sunday 26 November with a broad range of activities.
Opening on Friday 24 November, we have invited Lit Lab to return for some readings from their latest anthology, "Frank Miller stole my girl". On Saturday morning, we present a concert for the entire family with performances by Music Generation Louth's Chamber Groups and Junior Strings. Bringing young people to watch young people perform is an excellent introduction to music. On Saturday afternoon, we're thrilled that Irish violinist Mairead Hickey will return to Ireland from Germany to give a one hour recital in the drawing room of Hatch's Castle. This is an intimate space which lends itself to the beauty of solo violin.
The main evening concert on Saturday is by the Irish Baroque Orchestra. Following the huge success of their performance of Vivaldi's Four Seasons last year, they are returning with an equally engaging programme which includes the soprano, Sinead Campbell Wallace singing a popular mix of much-loved and well-known Handel arias as well as a performance of a seasonal classic, Corelli's Christmas Cantata.
On Sunday morning, our lecture will turn to early traditional music with guest speaker, Sylvia Crawford talking about the Armagh harper, Patrick Quin. The Festival draws to a close with a programme with a twist. Pianist Michael McHale joins cellist, Brian O'Kane for an hour long programme of works by and inspired by Bach, including Cello Suite No 2, the Italian Concerto and ending with Brahms' glorious cello sonata for piano and cello.
We hope you will see this as a varied programme with something for all tastes. As in previous years, we keep prices affordable and this year have asked An Tain Arts Centre to facilitate the advance Box Office which gives you an option to buy online, as well as over the phone or in person.
Festival Summary
Fri 24 Nov 7:30pm
Lit Lab Poetry Night
*Hatch's Castle, Market St
Free
Sat 25 Nov 12:30pm
Music Generation Louth Junior Strings
St Mary's Abbey, Market St
€5
Sat 25 Nov 4:00pm
Mairead Hickey, violin
*Hatch's Castle, Market St
€10, €5 children.
Sat 25 Nov 7:30pm
Irish Baroque Orchestra featuring Sinead Campbell-Wallace, soprano
St Mary's Abbey, Market St
€18 full; €15 conc & €5 children
Sun 26 Nov 1:00pm
Sunday lecture: A talk on 18th-century Co. Armagh harper, Patrick Quin
*Hatch's Castle, Market St
Free
Sun 26 Nov 3:00pm
Michael McHale, piano and Brian O'Kane, cello
St Mary's Abbey, Market St
€15, €12 conc & €5 children