Our church has the only bells in the Armagh diocese which are arranged for full-circle ringing and we value them highly.  St. Peter's ringing team, both male and female, includes and welcomes people of all ages, from all backgrounds and from all of the community.
Backstroke, handstroke, rounds, treble 2 3 4 5 6 7 tenor, call changes, changeringing, the sally, the tail end, rounds, plain hunt – these are some of the terms of art used by bellringers at St. Peter's as they call people to church each Sunday.  Bellringing may seem a mysterious craft but at St. Peter's we are doing well in the tower: we almost always have more than enough trained people to ring on Sunday mornings and our Wednesday 6pm practices are popular too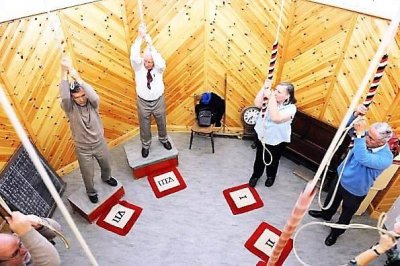 St Peter's Bell Ringers are looking for new recruits
This is a sociable and interesting challenge and you will receive one-to-one expert tuition. We practice on Wednesday evenings and ring for Church on Sunday mornings.
If you are interested in joining us please phone Liz Manville on 086-3822480.