Note that the views expressed here are those of the authors and do not necessarily reflect any official thinking of the Anglican Communion or its member Churches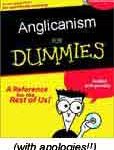 This section is aimed at people who've never been inside an Anglican/Episcopalian Church, or who are entirely new to Christianity. Perhaps you've walked past a church and wondered what goes on inside, or perhaps you've heard a lot about Christianity from the media and you're wondering if what you've heard is representative of Christianity as a whole. (A lot of it isn't. The extremists at both edges get most of the publicity, while the majority of Anglicans sit firmly in the middle of the spectrum.)
These pages aren't meant to be a comprehensive guide to Christian belief. It's intended to give you some background information so that – we hope – you'll feel comfortable enough to come along to a church service and begin finding out more about us. We welcome visitors: coming along for a look doesn't commit you to anything.
This is part of the website of St Peter's, Drogheda in Ireland, but most of the information here is applicable to all Anglican/Episcopalian Churches, and much of it applies to all mainstream Christian churches.
Please click on the navigation bar to the right to go to any particular section.