IN TOUCH January 2017
The Occasional Newsletter
of
Drogheda, Ardee and Kilsaran Unions of Parishes
January 2017
Dear Friends,
              Around the Parishes in December & January
We give thanks for the gift of a New Year. We acknowledge before God that each New Year (of which God has seen many and ourselves just a few) brings us closer to the Second Coming of Christ and reminds us that the current order of reality, despite appearances, is only temporary.
The Rector made a number of pastoral visits to parishioners (and hopes to make many more). During these he learned that biscuits make you fat, and that mince pies make you even more so. The Rector got lost on many country roads attempting to find the way to obscure townlands far from main roads and beyond the reach of Satellite Navigation Systems.
The Rector and Revd Joyce were guests at the Indian Orthodox Christmas Children's Service at St Peter's and were truly amazed at the talents of Indian children.
The Rector was the guest preacher at St Columba's Cathedral, Londonderry.
Two meetings were held with the Architects supervising the restoration of our alms houses at St Peter's Place.  These charming houses continued to be cleared of ivy and undergrowth. Thank you to our dedicated helpers, both our own parishioners and boys from Drogheda Grammar school who kindly gave us their time and labour as part of their Transition Year, and came back to make an amateur horror film in 8 St Peter's Place (a big old house which turned out to be filled with sinister children's toys).
There was a successful fund- raising concert at Collon Church.
There was a successful fund-raising Christmas Fair for St Peter's at Dardistown Castle, we are grateful to Lizanne and Ken Allen for use of their home.
Carol services or nativity plays were held at Dunleer, Castlebellingham and Ardee.  Many thanks to Revd Joyce and Ian Moore for their help.
Work was done on the further development of the church website and we are grateful to David Huber for his help in this. .
Children from St Peter's church along with children from Dundalk and St Peter's School took part in a carol service, part of which was televised by RTE on Christmas Day.
The Rector met a couple for marriage preparation.
The Rector continued to try learn to ring bells and went to a tasty bell ringers' dinner at Borzalino's.
Poppy Kerr was baptised at St Peter's.
The Rector met with two families for baptism preparation.
There was a United Drogheda and Dundalk Deanery Service St Peter's.
There was a Family Service at St Peter's which will now run on the second Sunday of each month.
Services were held at Dunany Church. Services will be held at Drumcar Church at 4 pm on 2nd Sundays and Dunany Church at 4 pm on 4th Sundays from now on. Further electricians quoted for the necessary electrical repairs at Drumcar.
The Rector led prayer sat the committee meeting of the St. Vincent de Paul Society.
There were Vestry Meetings in Kilsaran and Ardee parishes.
The Rector blessed St Laurence's gate and prayed for its preservation in an ecumenical thanksgiving service.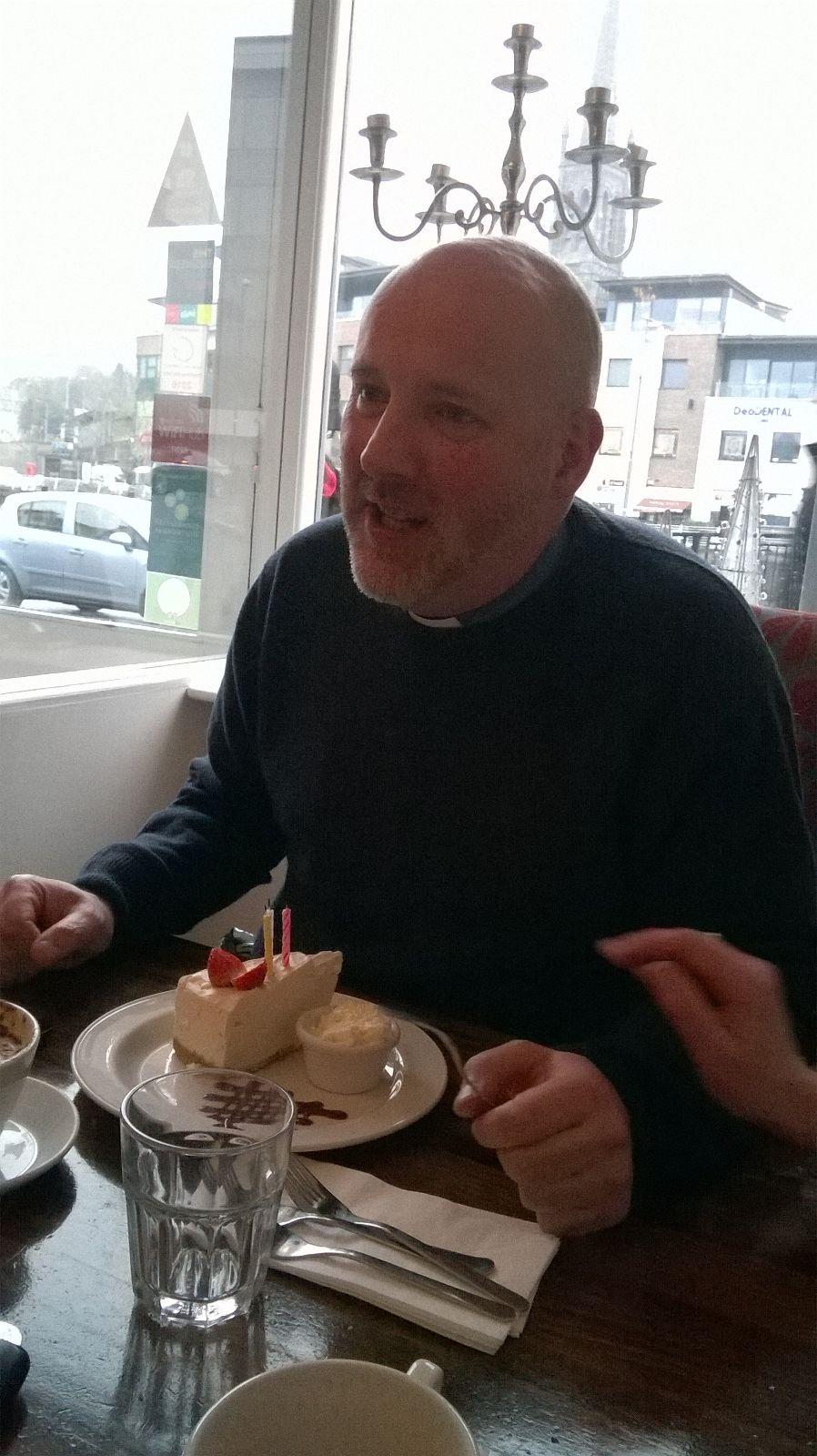 The My 50 th Birthday! (which I thought no one knew about!) Who said you can't have Cheesecake at Breakfast!!
Every good wish
Iain.
Clergy
The Revd Iain Jamieson    Tel: 041-9870073/083-8640133
Rectory, Drogheda    drogheda@armagh.anglican.org
The Revd Canon Joyce Moore    Tel: 041-6851327/087-7468866
Dunleer, Co. Louth    am.drogheda@armagh.anglican.org